GoDaddy Vs. Wix
In the age of user-friendly platforms like Wix and GoDaddy, it's simpler than ever to launch a fully functional and attractive website. For people who have never constructed a website, knowing what features to seek in a website platform might be challenging.
Wix and GoDaddy are all-in-one website builders that provide you with everything you need to launch your site. However, their respective functions differ significantly from one another. We've laid out the differences between Wix and GoDaddy so you can decide which platform is best for your business.
Share This
GoDaddy Vs. Wix: Templates
The primary goal of using a site builder is to create a professional-looking website. Also, it would be great if the site's design was unique and not generic.
In regards to the second question: have you had any luck? It's true that when you use a website template, your site may still seem like others that use the same template, no matter how much you change it. However, if you're willing to put in the time and effort, Wix provides a solution that will allow you to avoid this issue.
Start with your pick from more than 900 premade designs in 17 categories. Significantly, there's such a wide variety to choose from. Then, using the drag-and-drop editor, you may position items anywhere you want on the page to create a unique layout.
But Wix's templates aren't mobile-friendly. For smartphone usage, there's a second, mobile-optimized version of every template (that you may modify independently). Suppose you've made significant changes to your template or rearrangement of page elements. In that case, you may need to tweak the mobile view editor.
The possible downside of using an existing template is that it locks you in. Changing templates requires starting from scratch with a new website.
Only 22 themes are available on GoDaddy. However, GoDaddy's website has a templates page with about 100 templates. When chatting with the support, it was clear that they are only examples and not templates you can use to create your website. It is a significant drawback of the GoDaddy service.
In contrast to Wix, however, you can quickly move between different themes without worrying about losing your hard work when you do so. We will give it to you that the quality of the themes is superb. The themes are very standard, yet they are stunning nevertheless. 
There is really little room for improvement when revising them. The primary difference between Wix and GoDaddy is that the former offers design tools. In contrast, the design of the latter offer presets.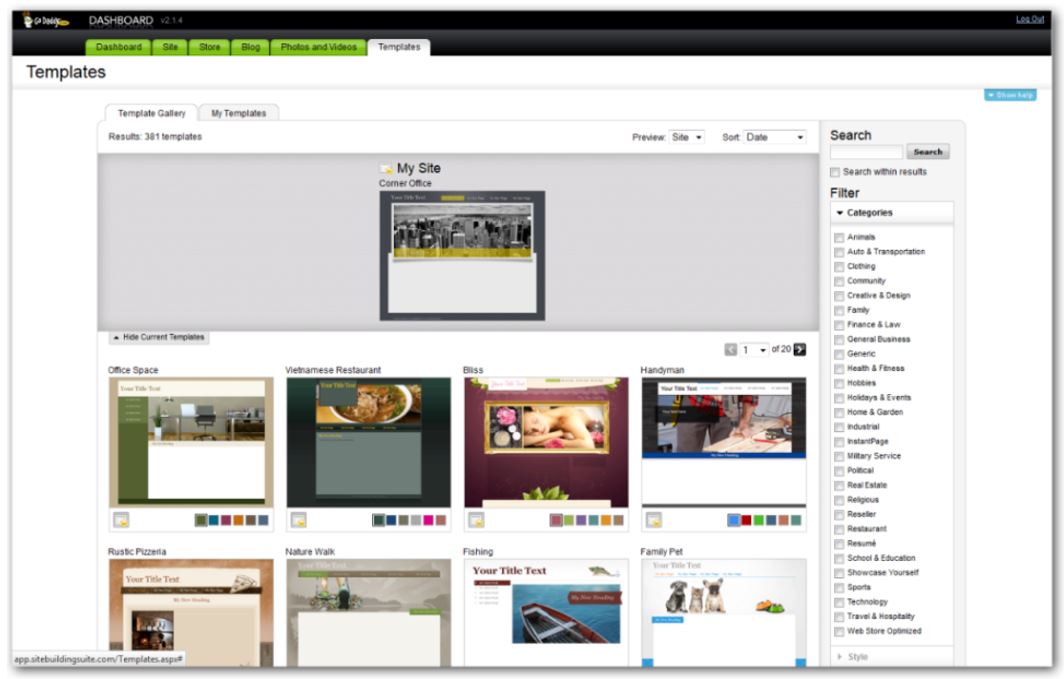 Learn More and Sign Up Now With Godaddy
GoDaddy Vs. Wix: Design Options
Wix and GoDaddy are two popular website builders, providing ADI (artificial design intelligence) capabilities that guide users through the design process. The ADI asks you a few questions about your site's purpose, target audience, and aesthetic preferences before generating a design for you to see and approve. While the ADI's first designs are usually perfect as-is, you may always make adjustments to suit your needs better.
The ADI editors are optional; many developers avoid them altogether. Alternatively, you may develop a website from scratch using a premade template like the ones available on GoDaddy or Wix and make a few tweaks. 
DIYers with minimal design and technical abilities may easily make appealing websites fast and simply using templates, even though they provide less modification freedom than developing a website from scratch.
Wix provides more than 800 distinct layout options for businesses, travel agencies, hospitals, fashion houses, universities, and charitable organizations, to name a few. 
Use Wix's intuitive drag-and-drop editor to create a site that works for your company. Wix's inability to modify design templates once a site has been launched is a drawback. Still, the upside is that creating several sites with various designs is easy.
More than a hundred different layouts for websites in fashion and beauty, home services, health, real estate, professional services, travel, photography, cuisine, and nonprofits are available via the GoDaddy website builder. 
Although the GoDaddy editor operates slightly differently from the Wix editor, it, too, has a drag-and-drop interface. There is less flexibility regarding where and how you may insert things on your website while using GoDaddy.
Limitations on design modification due to GoDaddy's structured-grid editor may frustrate design experts but are likely to be appreciated by individuals with less experience in that area. Thanks to the editor's restrictions, you can avoid ruining your website's aesthetics by modifying it too much.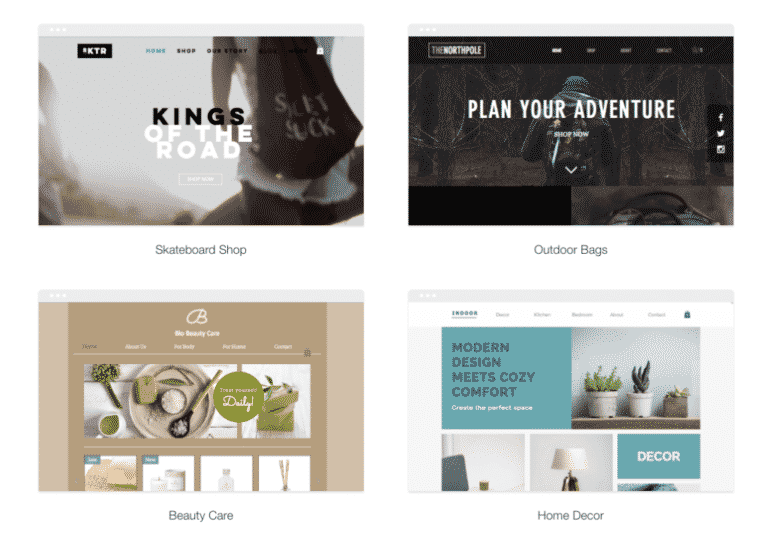 GoDaddy Vs. Wix: Ease Of Use
In our opinion, and We think that simplicity of use is crucial for many others. GoDaddy's website creator may be the best option if you need to get things done quickly. Users have said that the website builder on GoDaddy is simple to use, allowing them to publish their sites rapidly. However, this might be because GoDaddy provides lesser functionality and customization options than Wix.
With GoDaddy and ADI, you can have a unique website up and running. You provide them with a few bits of data, and they care for the rest. Editing the look of your GoDaddy site, though, might be a little more challenging. Because of GoDaddy's stricter rules, it might be difficult to make changes to individual components of a website.
On the other hand, Wix has a user interface that is ridiculously simple. However, unlike with GoDaddy, this does not limit your creative options. The Wix ADI and Wix Editor X platforms are your two primary options for developing a website. 
Similar to GoDaddy's Website Builder, Wix ADI will ask you questions before generating a unique website design based on your responses. The final website design will be open for revisions once you review it.
Editor X, on the other hand, highlights its drag-and-drop features. It is what it claims to accomplish. You may get started with whichever design you choose. Choose the website components you need, grab their handles, and drop them where you'd want them to go. Quite elementary, huh?
We've previously mentioned that the multiple capabilities offered might cause the continuing process to take longer than with GoDaddy. Despite this, Wix is not too complicated for first-timers.
Both solutions are pretty intuitive. Thus picking one is tricky. Nonetheless, Wix ultimately wins in the end. Wix's website editor is easier to use and more feature-rich than GoDaddy's.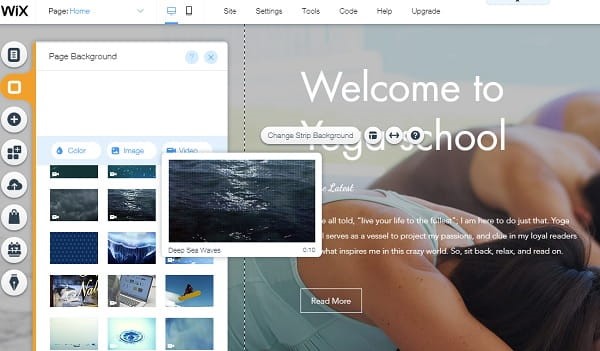 GoDaddy Vs. Wix: Search Engine Optimization
How effectively optimized your website is for search engines will determine where it ranks in those rankings. It's a significant factor in how much organic traffic you'll get.
Wix highlights that you have complete control over your SEO. Meta descriptions, URL slugs, meta titles, and header codes may change. If this seems to be a challenging task, don't panic; there are several applications available.
You have as much say over GoDaddy's meta descriptions, URL slugs, meta titles, and header codes as you do with your own. Moreover, you may use SEO metrics like keyword ideas and monitoring. Still, you can't use third-party SEO plugins since they don't have an app store like Wix.
A sitemap is made and sent to search engines as well. It is essentially the plan for your website. It aids search engines in discovering, navigating, and indexing your whole website.
For search engine optimization purposes, GoDaddy comes out on top. Choosing between them was challenging due to their similarities and individual strengths. But in the end, GoDaddy's sitemap functionality sealed the deal.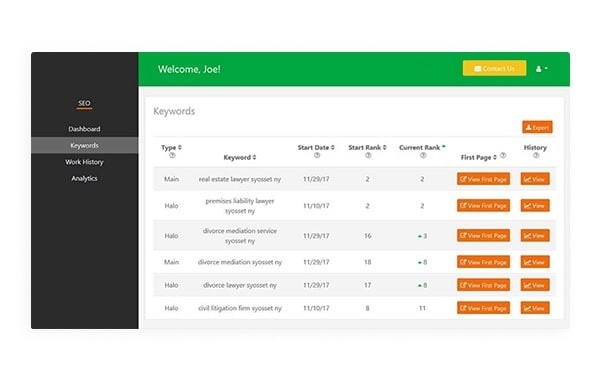 GoDaddy Vs. Wix: Ecommerce
Can an online store be created using GoDaddy or Wix? They would be great at it, and I'll explain why. GoDaddy will serve as our starting point.
GoDaddy's E-Store makes it easy to open an online shop with features including a customer feedback system, an affiliate program, and an integrated blog.
Using one of their professionally designed templates can have you up and running in minutes, ready to offer your wares online. GoDaddy isn't only a domain registrar but also works well for online stores. Boosting sales is a goal shared by everyone, and all of us do.
Suppose you've already got a strategy and want to start selling; great! A single offering is all that's required to begin generating leads or customers.
You're done when you've found a shopping method that suits your needs. How convenient! To avoid unnecessary difficulty, We suggest doing this instead. To set up an online store, Wix is a great choice. Wix has fully integrated eCommerce features in three of its eight premium plans.
You may get everything you need to start accepting online payments and accepting several currencies for as low as $23 per month.
Wix has relatively advanced e-commerce solutions. On the downside, they can't compete with feature-rich alternatives like Shopify when creating an online store.
Customers looking for a website that can sell a few items on the side are Wix's target audience for their eCommerce options. You shouldn't use it for your live business website.
Although neither Wix nor GoDaddy are designed with e-commerce in mind, you may certainly use them to sell your wares online.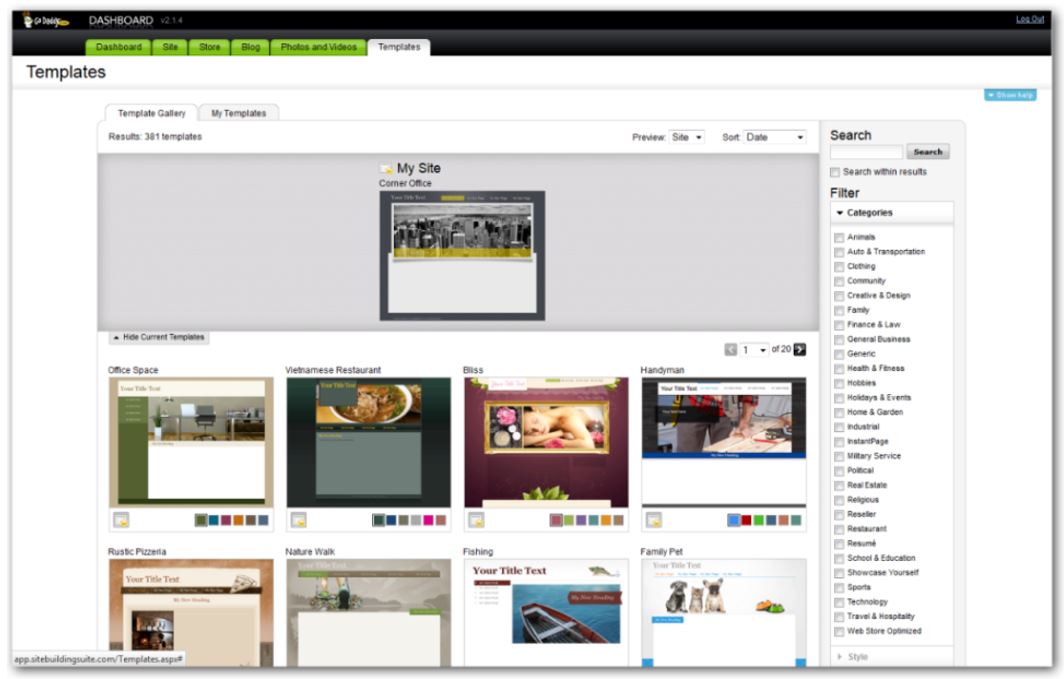 GoDaddy Vs. Wix: Help And Support
GoDaddy and Wix are two entirely different options.
Nobody enjoys being lost or confused, but it's comforting to know that assistance is close to reaching. When you need help, you may choose from a wide variety of resources that both Wix and GoDaddy provide.
Since Wix provides excellent service, we gave it 4.3 stars out of 5 in this area. Phone assistance is available around the clock for English and Spanish speakers and during business hours for speakers of most other languages.
Wix offers social media and live chat support if you'd prefer to avoid picking up the phone. It also has the best support center of any website builder and a user-friendly community forum.
We sincerely believe in Wix's support since we have extensively tested it. Even if you're looking for assistance with a topic that Wix doesn't cover, it will let you know!
Compared to Wix, GoDaddy's assistance and support ratings were worse. We only gave it 3.8 stars out of 5. It is not because the help it provides is poor; instead, it is because fewer resources are available to you.
GoDaddy, like Wix, provides round-the-clock customer service through phone, chat, and social media. One of its main flaws is the quality of its information hub. When we tried it, we had a hard time finding precise answers to all of our inquiries, and overall, it wasn't as helpful as Wix's. There are no accompanying video guides to go along with the written instructions.
Wix's in-editor assistance is an additional strength, however. Suppose you encounter difficulties while working on your site. In that case, the question bubble will lead you to the solution without forcing you to leave the editor.
GoDaddy Vs. Wix: Pricing Plans
Finally, the part you've all been waiting for: which web host is cheaper, Wix or GoDaddy?
Although GoDaddy does not provide a free plan, Wix does. Here, you may make your website and share it without spending a cent. However, a Wix subdomain and Wix branding will be included in your website's URL. 
Therefore, this solution is not suitable for use on high-quality business websites. Still, it's a terrific opportunity to evaluate whether you like what Wix offers and get a feel for the platform.
Wix offers seven premium options if the freemium version doesn't meet your needs. Prices for these packages start at $14 per month and go up to $49. Remember that only the top three tiers of programs enable online sales. It removes the Wix logo, allows you to use your name, and provides at least 1 GB of bandwidth.
When you sign up with GoDaddy, you may try out their services risk-free for a whole month. You may choose from four paid plans with prices ranging from $9.99 to $24.99 per month.
Their Basic package is just all you need to set up a simple, personal website. But if you're serious about expanding your company, you should look at GoDaddy's Premium or Standard services. However, GoDaddy Insight, which offers tips on how to boost your internet visibility, is included in all plans.
Wix is the best website generator when comparing prices. Although GoDaddy has lower options, Wix has more functionality for the price. There's also a free lifetime package available.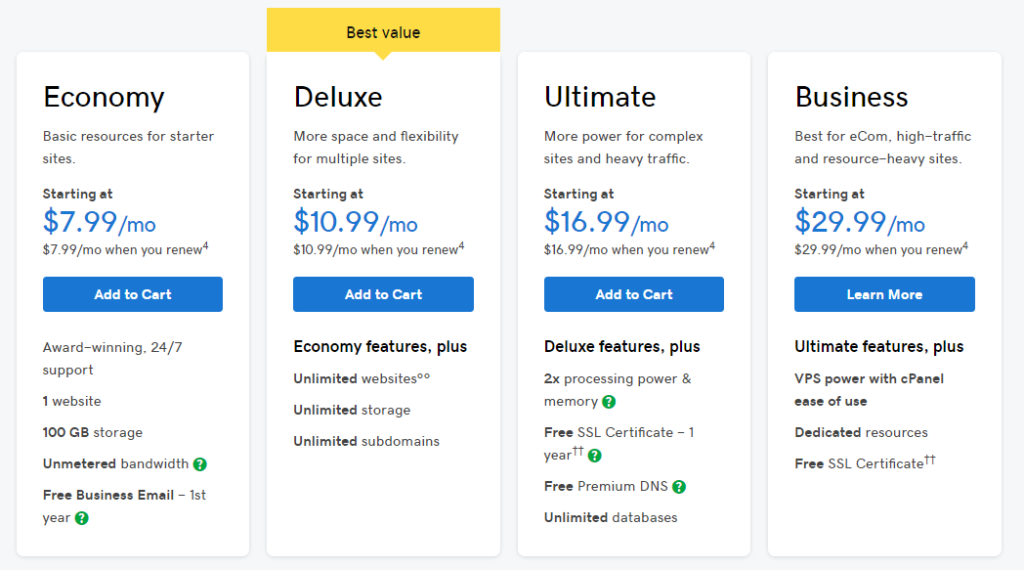 Conclusion:
Despite Wix's popularity, we found that GoDaddy's low prices and intuitive interface made it the top website creator. The platform has advantages over Wix, including an easy-to-use drag-and-drop editor, round-the-clock phone and chat assistance, and unlimited storage. 
If you require a wide range of e-commerce features or want a clean dashboard to work with in terms of design, Wix is a solid alternative. With more than 300 third-party integrations accessible in the Wix App Market, you can add special touches to your site that aren't available on GoDaddy. 
With more than 800 premade layouts to choose from and a genuine drag-and-drop editor, you may tailor your website to your exact specifications. In addition, Wix's high-end e-commerce solutions may assist you in making your consumers' online shopping experience easier and more convenient.
Start with Bluehost Today as low as $3.65/mo
Host my personal blog with Bluehost
Popular on Boogera Right Now!