First time writing a blog?
Is this your first time writing a blog? If you are, you may ask what a blog is and how it differs from a website. There's no shame in it since the internet may be intimidating for newcomers, and we all have to start somewhere.
We're here to help you navigate the internet, explaining what a blog is and the distinctions between a blog and a website. If you're thinking of starting a blog or website, you'll be an expert before you know it if you follow this guide.
Let's get this party started!
What Is A Blog?
A blog is a website displaying the information in reverse chronological order. The blog material is often in the form of "blog posts" or "entries."
Typical websites are static, with material structured in pages that are not regularly updated. On the other hand, blog changes and evolves; some bloggers even publish many new posts every day.
As the name suggests, Blogger debuted in 1999 and was eventually bought by Google. Blogger was the first trustworthy blogging platform, making it the default choice in the early days of blogging.
However, WordPress's emergence in 2003 dramatically revolutionized the blogging game. It is because it is open source software. This first blogging program enabled users and developers to change the code, allowing a website to be entirely customized. Unbelievably, WordPress now powers more than 30% of the internet.
Share This
What Is A Website?
Nowadays, most people think of a website as a collection of related web pages and related media files you can access from a central location. 
Websites are also often hosted by web hosting services, allowing these pages and material to be accessible over the World Wide Web. Furthermore, websites may be internal sites accessible through a secure local area network, as with most corporate 'intranets.'
Websites may be used for various reasons, including corporate, personal, government, and agency usage. While there are many uses, one goal remains constant: websites intend to convey information to visitors or audiences – a type of online brochure for a business or group.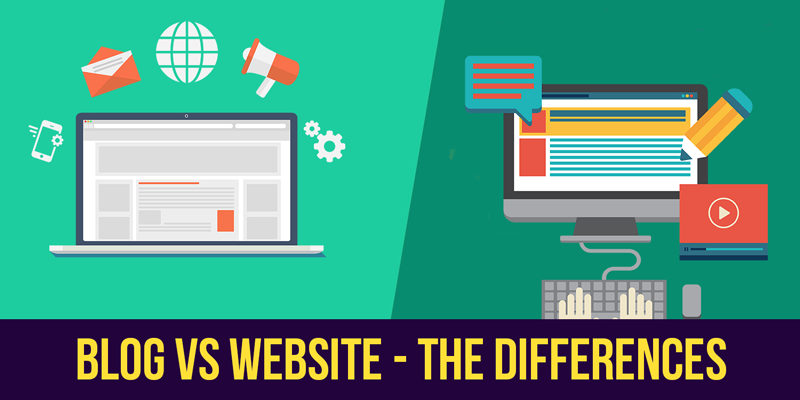 Learn More and Sign Up Now With Bluehost
How Is A Blog Different Than A Website?
Let's start with a blog and speak about the essential qualities of each. The material on a standard blog is mainly arranged by posts, often shown in reverse chronological order (newest first). Blogs are typically owned and maintained by an individual or small group. 
In many situations, comments on the blog post are permitted, making the blog interactive, and allowing the reader to subscribe to get updates on future postings.
A blog is updated more regularly than a website since it is based on a Content Management System. However, it may have pages that are not updated as frequently. However, since a blog often has updated entries, they are readily accessible and more likely to be discovered by search engines than a website alone.
Following that, a brief discussion of website characteristics. A website is structured into pages, such as Home, About, and Contact. These pages are more static, meaning the material doesn't need to be changed very often; however, for a company, one of the pages may be a blog page and updated more regularly. 
A person or a small group may control websites. However, they are often used for commercial objectives, such as a virtual shop or more communicative purposes. Generally, a website that does not allow comments is not considered interactive.
The Difference:
So, in general, a blog is thought to be dynamic and participatory. A website, on the other hand, is deemed static and evergreen. A blog may be considered a website if it includes other pages such as Contact and About. However, not all websites are blogs.
Because many companies include a blog component, many company websites are developed on WordPress.org, a Content Management System (CMS), a website platform that makes updating websites simpler than doing it using HTML.
Are you still here with me? Or, you might look at it this way: blogs are great for collecting and organizing your ongoing thoughts and ideas, which is an excellent method to establish your knowledge in your field. Still, websites are fantastic for constantly showing prospective customers what you have to offer.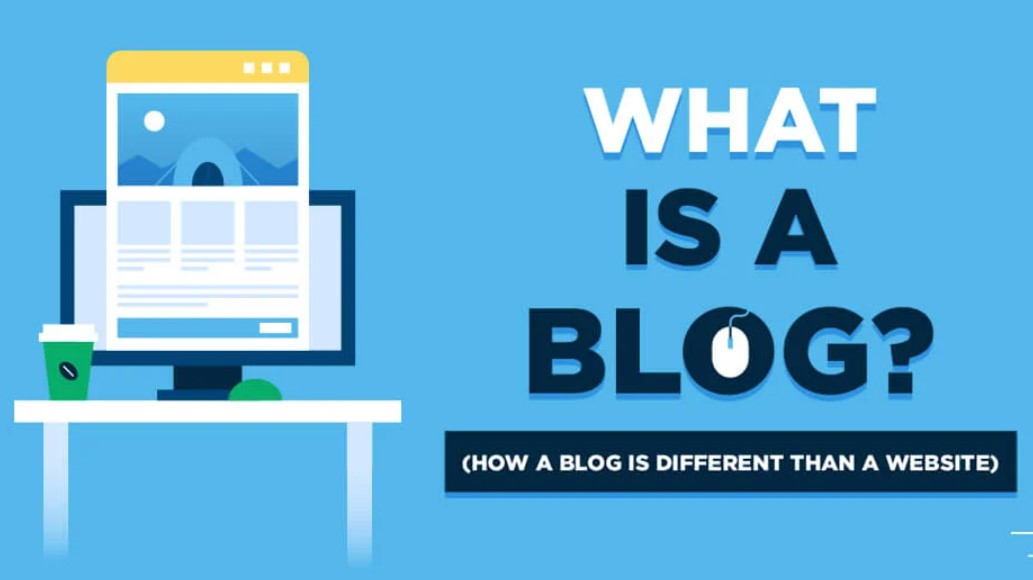 So Which Is Better For You? Blog Or Website?
That is dependent. What are your objectives for going online? Do you wish to exchange ideas and thoughts? Will you have any further thoughts or suggestions to share? If so, consider starting a blog.
Do you want to set up a website where you can showcase your service packages, goods, and expertise? If so, think about creating a website. Will you just be expressing your views and ideas, looking for a place to communicate with people who share your interests or those who want to learn from you? If so, consider starting a blog.
Will you want to share your views and ideas with your audience, connect with them, and provide services or products? Consider a blog on your website!
Having a website with mostly static pages that deliver consistent information and a blog page that allows you to connect and maybe engage with your readers may be what you need to build your company online.
Can You Have Both A Blog And A Website In One?
Having a website and a blog together is quite acceptable. With WordPress, you can develop a professional-looking website for your company and include a blog page alongside static pages such as your about page and products/services page.
There are several advantages to blogging for your company; some of them are as follows:
Blogging improves your SEO (search engine optimization).

Promotes your company as an industry thought leader.

Inform your consumers and prospects about your product/service/industry.

Respond to commonly asked questions about your company.

Increase the number of visits to your website by using organic search and inbound links.

Inviting more people to interact with your business online is a great way to boost your profile's visibility.
How To Start A Blog?
Starting a blog is now simpler than ever, and anybody – even novices – can do it. You can create a beautiful blog website in minutes with WordPress, the world's most popular blogging platform. 
However, it is crucial to remember that there are two varieties of WordPress: WordPress.org and WordPress.com. The first is a self-hosted solution, whereas the second is a hosted option. We suggest that you use WordPress.org. Not only is it less expensive, but you also receive access to hundreds of free WordPress plugins for your site.
When you establish a blog with WordPress.org, you'll need a web hosting account and a domain name for it to be visible on the internet. A blog hosting account and a domain name will cost you money, which might be challenging to come by when you're just starting.
Bluehost is one of WordPress's largest hosting providers and is officially recommended by WordPress, so you're in excellent hands. WordPress makes it very easy to develop and design the blog of your dreams after you've bought a hosting.
How To Make Money Blogging?
You may be wondering how to earn money blogging now that you've chosen to establish a blog. Many individuals start blogs as a pastime to enjoy writing and sharing their opinions with others. But you may also earn money by blogging. You may even leave your day job and convert your blog into a money-making company if you know how to make money online with blogging.
Displaying adverts on your site using Google Adsense is one of the simplest methods to earn money blogging. 
Google Adsense is a free service that handles all your advertising. They'll select the perfect advertising for your site, show them, collect payment from advertisers, and then give you the money after a tiny cut. The more people who click on the adverts on your site, the more money you'll make.
Another standard method for bloggers to earn money is via affiliate marketing. Affiliate marketing involves mentioning, recommending, or reviewing a product in your blog articles and providing a link for visitors to purchase such things. The link is monitored, and you get a commission if someone buys a product after clicking your link.
Many bloggers offer digital items such as eBooks, tutorials, and templates. You may even convert your blog into a membership site that people must pay to access. Selling online courses and webinars is another alternative. As you can see, blogging does not have to be a pastime for you; it can be turned into a company.
Conclusion:
Nowadays, there isn't much distinction between a website and a blog. Most blogging and website content management systems enable you to build static pages and blog entries that are presented in reverse chronological order.
Most individuals will build more static pages and use a blog to update their site with fresh content constantly.
Start with Bluehost Today as low as $3.65/mo
Host my personal blog with Bluehost
Popular on Boogera Right Now!