Creating a website shouldn't be difficult when you have something as simple as WordPress. In this post, I'll show you how to create a WordPress website in just a few easy steps.
Even if you're a newbie, don't worry! This WordPress website guideline is written specifically for you!
Let's talk about what makes WordPress the ideal option before I get started with the procedures to develop a WordPress website. After all, there are several possibilities for constructing a website. So what's the deal with WordPress?
Why Choose WordPress To Make A Website?
Among all the website systems available, WordPress has a few unique traits that have helped it become the most popular. The most crucial feature is that WordPress is open-source and free.
As a result, WordPress gives you more control over your site than most other systems. Everything is under your control, from the display to the features.
WordPress can manage any size project, from a small blog to a major online enterprise.
Share This
WordPress.Org Vs WordPress.Com – Which One To Choose?
It's crucial to realize that there are two distinct versions of WordPress before we get started. Although they have the same name, they operate in separate ways.
WordPress.org
The first is WordPress.org, which is a free site creation and management platform. To put it another way, it's a Content Management System (CMS) that allows you to have complete control over your website. As a consequence, you'll be able to learn how to utilize WordPress.org to create a blog, an e-commerce store, a business website, and more.
WordPress.com
WordPress.com is the second option, and it is instead different. This WordPress edition is a web-based platform that will host your website for you. Consequently, it's a lot easier to use, but it's also rather limited, and you don't have much control over your site.
I'll be utilizing WordPress.org when we speak about how to make a WordPress website. Don't worry if you're thinking about how difficult WordPress is to use. It may help you design a website that looks and functions exactly the way you want it to with a small effort.
Let's go on to talking about how to make a WordPress website now.
1. Buy A Domain Name
Buying a domain name is the first step in creating a WordPress website. When users wish to access your site, they will type this address into their browsers.
Your domain name is crucial to your online identity. Consequently, it's critical to make the best selection possible. While you have the option to modify your domain at any time, this might be detrimental to your branding. Your Search Engine Optimization (SEO) rankings may potentially suffer as a result.
Learn More and Sign Up Now With WordPress
If you're creating a business website, your domain name should normally incorporate your firm name. You might also contain relevant keywords if the name is brief.
Just be careful not to get carried away! Customers have a tough time remembering long URLs. They also increase the likelihood of spelling errors and typos.
Whether you already have a URL in mind, you may use Bluehost or a site like Name.com to see if it's available.
If you're stuck on ideas, try typing a few keywords into the BlueHost domain explorer to get some ideas flowing. A domain name will cost between $8 and $15. However, Bluehost offers a free domain.
3. Purchase Webhosting
Every website is kept on a web server. It's possible that you'll be able to set up your server. Most WordPress websites owners, on the other hand, opt for third-party hosting.
When you join a hosting company, you are entrusting them with the upkeep of the server, including the replacement of old hardware. Depending on your supplier, it may also help you with simple maintenance tasks.
The service may, for example, assist you with creating frequent backups, upgrading WordPress core, and monitoring your site for performance issues.
Variety of Hosting Providers
You may select from a large variety of providers, hosting options, and packages. The ideal WordPress hosting company for you will determine by criteria such as your budget and expected website traffic.
Downtime, on the other hand, is terrible news for any website. As a result, we suggest seeking a supplier with a high uptime rate, if not an uptime guarantee:
Security
For website proprietors, security is also a major worry. Your hosting provider should, ideally, provide established security safeguards. Firewalls, virus scanners, and a gratis Secure Sockets Layer (SSL) certificate, for example, may be included in your package.
Page loading
Page loading times can also influence how high your site ranks in search engine results. It has to be speedy if you want people to visit your WordPress site. With this in mind, we recommend choosing a service that has speed-enhancing capabilities, such as a Content Delivery Network (CDN).
3. Install WordPress
When you sign up for Bluehost through our link, they will install WordPress for you immediately. They created this one-click WordPress setup to find things simpler for non-technical individuals to build websites.
To get started, enter your Bluehost account and select the Login to WordPress option.
You may establish many websites with your Bluehost account. To create other websites, go to the "My Sites" area and use their one-click WordPress installer.
If you're using another WordPress website hosting service, such as SiteGround, HostGator, or WP Engine, you can find step-by-step instructions for those providers in our complete guide on how to install WordPress.
After you install WordPress, you can start customizing your website's look by choosing a new template and adding new pages.
Wasn't that simple?
If you have any comments, read more details on our Bluehost review as a top hosting provider, please let us know in the comments.
Otherwise, get started with Bluehost here.
Let's go on to the next phase, which is selecting a website design.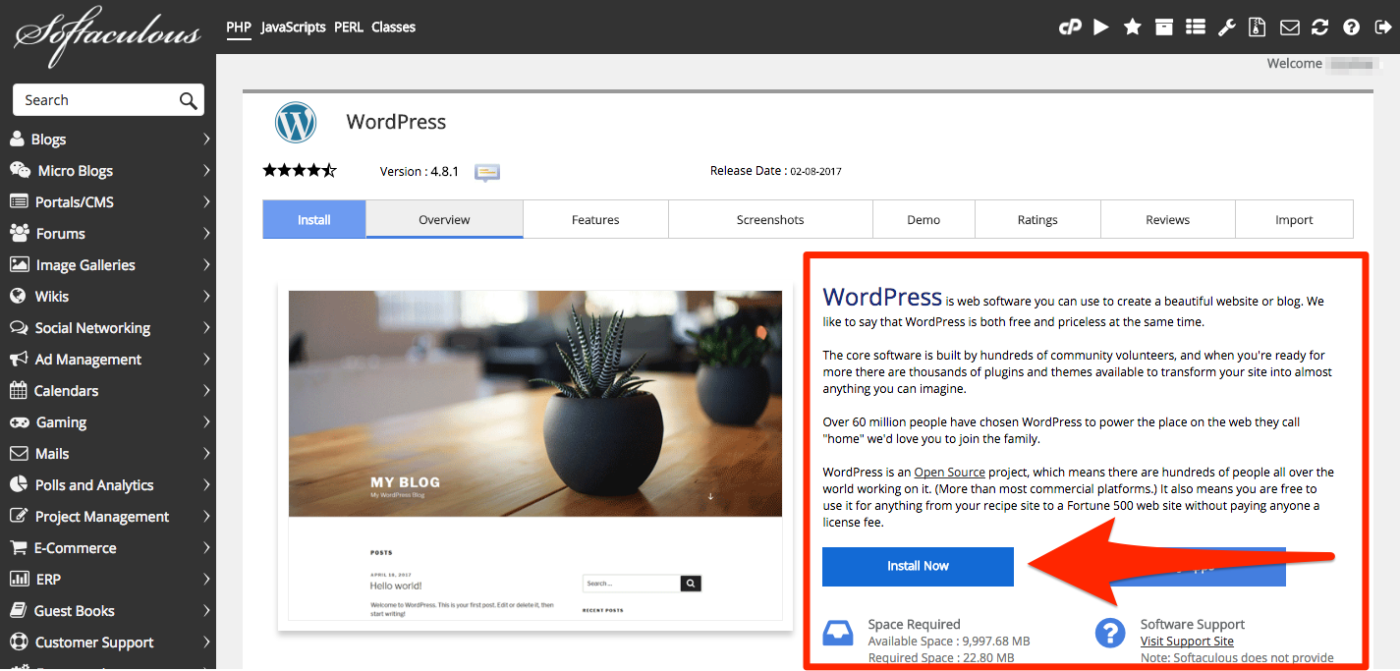 4. Select Your Theme
Your WordPress site's aesthetic appearance is controlled by a WordPress theme. WordPress themes are custom-designed templates that you may install on your website to make it seem different.
Every WordPress site starts with the main premise by default. If you go to your site, it will look the same: But don't panic, you can add thousands of free and premium WordPress themes to your site.
Change your theme
You may change your theme from the WordPress admin panel. Click on the 'Add New' option on the Appearance » Themes page.
You may browse the 8.474 free WordPress templates in the main WordPress.org theme directory on the following screen. You may sort them by most current, most prominent, most highlighted, and other factors.
You might also be interested in our guide on choosing the best WordPress theme for your website. WordPress will display the theme in the search results. Move your mouse over the theme and click the Install button to install it.
After Installation
After installing your theme, navigate to the "Appearance" menu and choose "Personalize" from the drop-down menu. It will open the theme customizer, where you may modify your theme settings while viewing a full overview of your website.
You don't have to finish all of the theme options right now. Once you have some material on your website, you could personalize it much more.
5. Add Posts And Pages To Your Website
Content displays in the form of blog posts when you add it to your WordPress website. Posts are commonly used for blogs and catalogs because they always display the most recent information on your website at the top of your highlighted content.
Pages are more appealing to company owners since the updated material remains in the same place. In WordPress, the most common post kinds are posts and pages. Other main post kinds, as well as custom post types, are available. For the time being, I'll limit ourselves to pages and postings.
Begin by determining whether you want a post or a page to act as your website's homepage. Go to the admin dashboard, select "Posts", and then "Add New" to add a new post to your website.
Use Blocks and Shortcodes
You may use blocks and shortcodes to add a headline to your article, position photographs, adjust the format, and insert page components.
Click "Store Draft" to save your changes as a draught, or click "Publish" to publish the post right away. The same procedure applies to adding a page to your website. Click "Pages", then "Add New" in your admin area.
To begin, give your page a title. After that, you may add photographs, videos, and material. Create several pages for your website using the same techniques. Click "Save Draft" or "Publish" when you are done.

6. Customize Your Website
There are many options to further personalize your website beyond the theme you pick.
Let's start by customizing your site's title. Select Settings > General from your admin dashboard. Put your website's title and slogan here. Other fundamental site information, such as your location, can also be toggled.
Now it's time to personalize your reading parts. You may convert your home page to a static page under Settings > Reading.
Keep Material in One Place
If you're a website owner who loves to keep material in one place, this is something to think about. If you're a blogger that wants to have the most recent material displayed at the top of your pages, consider employing a dynamic page. Your visitors could access your most recent content this way.
The navigation bar can also customize. It makes it simple for users to discover information on your website. Go to your admin dashboard, choose Appearance, and then Menus to add a navigation bar.
You may customize the look of your bar here, as well as the number of pages you want to include, the names you want to use for those pages, and the order in which they appear.
7. Install Plugins To Enhance Your Website
Use plugins and tools to improve the appearance and functionality of your website. Here's a quick rundown of WordPress plugins that might help you out:
The free "WordPress Plugin" from HubSpot may help you centralize marketing for your WordPress site. Free forms, live chat, email marketing, analytics, and more can all add to your site with Hub.
The "Sucuri Security" – Audits, Malware Scanner, and Security Hardening plugin may enhance your current security posture by adding auditing, monitoring, and scanning capabilities, as well as suggestions and notifications.
The "Yoast SEO" plugin aids millions of websites across the world in improving their search rankings. It provides SEO, readability, and mass editing services.
The "W3 Total Cache" plugin decreases website load time and improves customer experience by preserving up to 80% of bandwidth by compressing HTML, CSS, JavaScript, and feeds using minify and HTTP compression.
The "Smush Image Compressing & Optimization" plugin improves performance in terms of both quality and speed by reducing media uploads and stored photographs.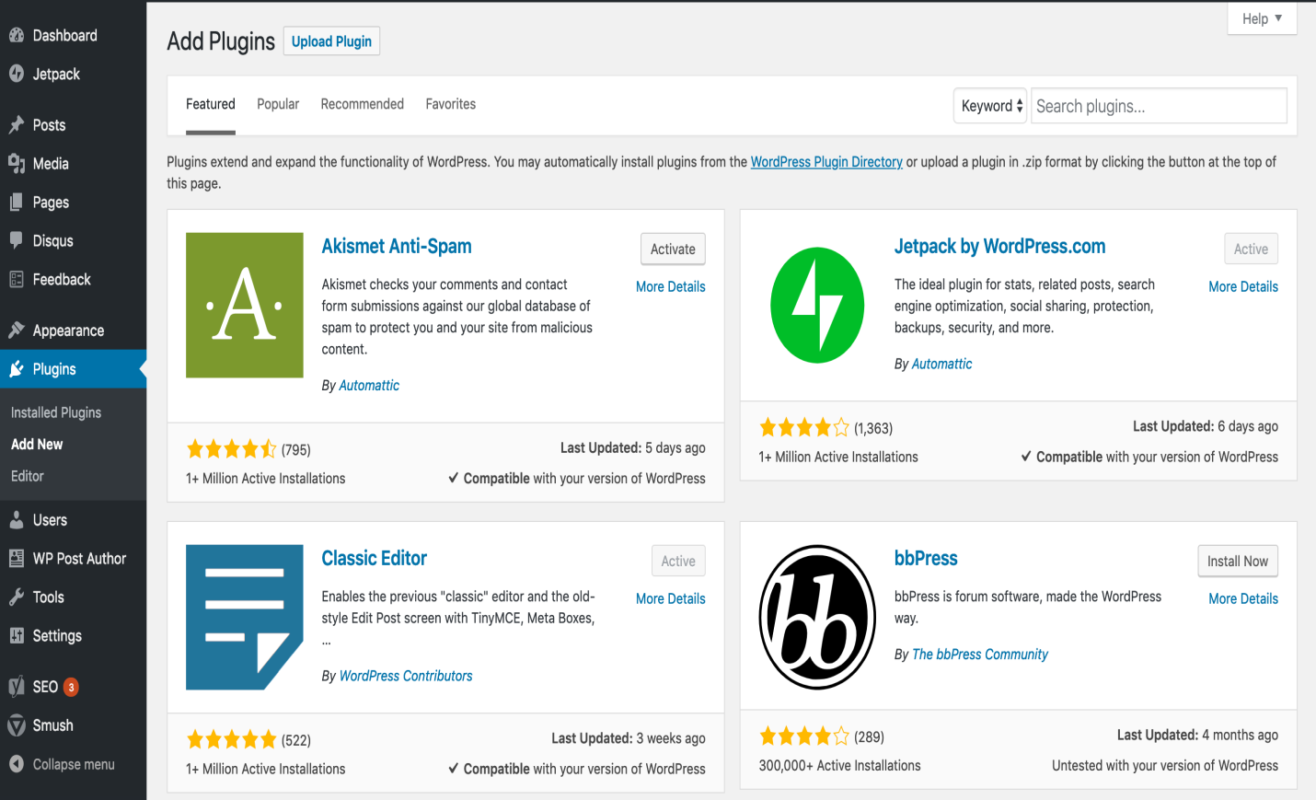 How Much Does A WordPress Website Cost?
The answer to this question depends a lot on the sort of website you're trying to build. A basic company website can range in price from $100 per year to $30,000 per year.
All users are advised to start modest and gradually add additional functionality to their websites as their business grows. In this manner, you'll save money and prevent overpaying while minimizing potential damages.
Learn More and Sign Up Now With WordPress
Conclusion:
It is critical to have a fantastic website. It's how you form bonds with visitors and leads, generate a positive first impression on new users, and enhance conversions.
The good news is that building your website doesn't have to be difficult at least not if you use WordPress.
The easy CMS allows users to create fully customizable programs to meet their specific needs.
You may start developing your site for your business, blog, portfolio, or online store right away if you have no prior experience.
If you are just starting out online, then you cannot go wrong with Bluehost WordPress plan shared hosting plan, click here to select your Bluehost plan.
Start with Bluehost WordPress as low as $3.65/mo
Host my personal blog with Bluehost
Popular on Boogera Right Now!