AWeber Pricing 
You may create and send newsletters, handle your subscriber list, and track the success of your marketing campaigns with the help of AWeber. It's an excellent choice for small firms and entrepreneurs that want to get started with email marketing.
The service provides a flexible pricing system that bases prices on the number of subscribers rather than the volume of emails sent. It also accepts payments on a monthly, quarterly, or yearly basis. Both factors contribute to AWeber's price being accessible if you have a limited budget but are also relatively transparent since you never have to question whether you're losing out on crucial features.
However, if you use AWeber's free plan, you will not have access to several premium services.
So, which AWeber plan would you choose? The free, somewhat restricted plan, or AWeber Pro, is relatively expensive but can let you expand and scale your company much faster.
Share This
AWeber Pricing
Let's go through each AWeber price option one by one, beginning with the free trial.
AWeber Free
The AWeber Free plan is an excellent starting point for developing email marketing campaigns. It includes email automation and a drag-and-drop email builder for creating attractive emails without having to alter any code.
With hundreds of email templates available, you can swiftly send thousands of emails by selecting the best ready-made design that suits your content. It also provides stock images for use in emails.
If you're already using another email marketing solution, the AWeber staff can assist you in transferring your contacts, emails, and other data for free. This subscription includes 24/7 live chat assistance, phone help, and email support.
AWeber interfaces with hundreds of applications, and the Free plan works with them. However, it may have restricted access to eCommerce connections, and you will need to subscribe to the Pro subscription for full access.
This strategy may not work in every part of the globe. If it takes you to the Pro plan, you must pay for their premium service for your email marketing efforts.
Price: 
Up to 500 subscribers and 3,000 monthly emails are sent for free.
Learn More and Sign Up Now With Aweber
AWeber Pro
The Pro plan contains everything in the Free plan plus some extras. It includes behavioral automation to help customers understand their path and generate communications depending on their activities.
In AWeber's Pro account, there are no limits on the number of subscribers, emails sent each month, or email lists. Unlike the Free plan, it allows you to entirely remove AWeber branding from your emails, allowing you to personalize them with your company name.
It comes pre-integrated with all common services, including eCommerce applications. You may improve your sales at record speed using the cart desertion tool and monitor your sales to compare the effectiveness of your email marketing.
The Pro plan includes site monitoring, email sales tracking, sophisticated message analytics, and accounts analytics in reporting and analytics. These reports aid in the development of more effective and result-driven email campaigns.
It features an endless number of landing page templates and thousands of stock pictures that you can use to construct the essential pages of your website. It allows you to expand your email list and reach a broader audience rapidly.
This plan includes a split-testing option for the registration form to help you create an email list. You may compare the outcomes of two distinct formats.
Price: 
You may pay monthly, quarterly, or yearly. For up to 500 subscribers, the AWeber Pro plan costs $19 per month. If you choose the quarterly payment option, you will save 14% on your total amount. You may also pay annually and save 14.9% on the overall cost.
You must contact their billing staff to get a bespoke AWeber price plan for more than 25,000 subscribers. They provide live chat and phone support seven days a week.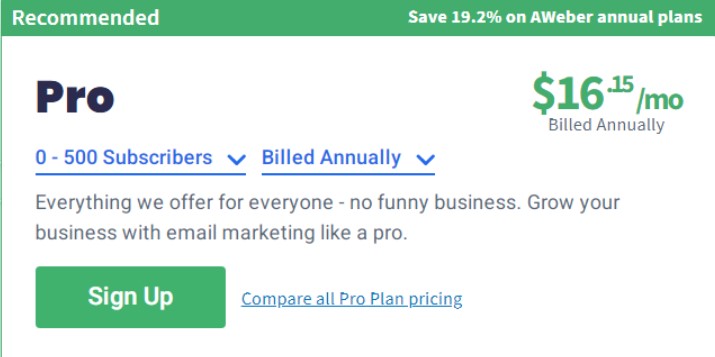 AWeber Price Comparison
AWeber offers two plans: free and pro. Their Free plan has several premium-like features, which you can compare in the All Features section. In this part, we'll go through the differences.
The Free plan is limited to 300 subscribers and 3000 emails each month, and you can only build one email list profile to start your company. On the other hand, the Pro subscription allows you to add an unlimited number of contacts, send a total number of emails, and build an infinite number of contact lists.
Email split testing, behavioral automation, cart abandonment, branded click-tracking links, and more technologies are available in the Pro plan. You may also remove the AWeber logo from your emails if you have a Pro subscription, and the AWeber Free plan does not provide these features.
You receive infinite landing pages, video landing pages, landing page designs, stock pictures, and so on with the Free and Pro plans. However, the Pro plan lets you replace the AWeber logo on each page with your business name, whereas the Free plan does not.
Signup forms, tagging subscribers, and basic segmentation include in both plans for list development and segmentation. The Pro package, however, consists of a split testing capability to choose the ideal registration form for your customers. The premium package also allows you to send emails to a personalized contact list.
Reports and analytics are critical in an email marketing solution to keep your campaigns on track. The Free plan offers message analytics, and however this is insufficient.
Advanced analytics, user analytics, site tracking, and email sales tracking statistics are included in the Pro package. It has an impact on your email marketing initiatives.
AWeber eCommerce services are likewise restricted under the Free plan, and there is a 1% transaction charge on every sale made by email. When you upgrade to the premium plan, you will have full assistance selling items, monitoring campaigns, and more. Furthermore, the transaction cost is cheap.
Aweber Pricing For Nonprofits
AWeber is a beautiful starting point with three months of free subscription if you're a charity or charitable organization looking to send emails to your subscribers. You may send hundreds of emails to your subscribers and develop email lists with a free account.
AWeber also provides a 25% discount on your bills once the free trial period expires. To get started with the free account, print their purchase form, fill it out, and send or fax it to AWeber. You must also provide a valid 501(c)(3) paperwork confirming your charitable organization.
Students' Discount
AWeber provides a 20% discount to students participating in an educational pan in addition to charity organizations.
It is an excellent chance for any tech-savvy student to launch their own business at a young age. Begin by completing the AWeber order form and mailing or faxing it to them. They will send your login details to you once your purchase has been processed.
AWeber Cancellation & Refund Policy
Understanding the cancellation and refund policy is critical before signing up for an email marketing service. Surprisingly, You can find no information on AWeber's refund policy in the platform's terms and conditions.
However, after speaking with support and verifying the procedure, we can confirm that AWeber does have a 30-day money-back guarantee. It only applies to new accounts, enabling you to try the Pro plan without commitment.
So, what's the glitch? It only applies to the first 500 members who sign up, and there is no certainty that it will apply to yearly subscriptions. So, if you spend a lot of money on an annual plan with more than 1,000 members, don't expect to receive your money back in full.
If you try AWeber and want a refund, you must do it via chat support since it will not happen automatically. If you only want to terminate your account, you may also do it online. Just be prepared to spend some time on the canceling procedure since it is extensive.
To terminate your AWeber plan, head to the billing page from the main account screen. At the bottom of the page, click the Change my plan button and follow the directions. There should be an explanation for the cancellation, and you should only decline one or two retention offers. You will get an email confirming the cancellation after the procedure.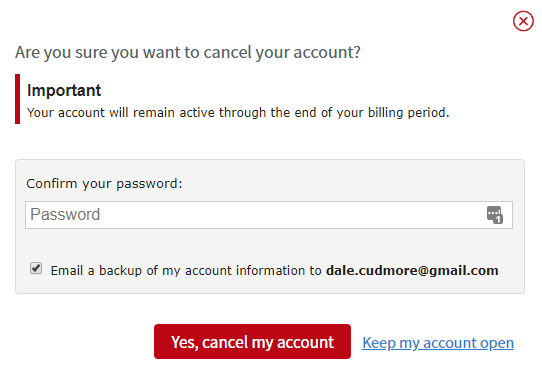 Conclusion:
Finally, this is a terrific email marketing tool after everything is said and done. It is simple for entrepreneurs into blogging, e-commerce, consultancy, affiliate marketing, and so on. Aweber is ideal for affiliate marketers since it allows them to include affiliate links in their emails. The price options are also suitable for small to medium-sized organizations.
You will find it simple to purchase one of Aweber's price plans and begin reaping the advantages it provides. Once you start utilizing it, you won't need to hire a professional to handle your email marketing campaigns.
It is due to how simple the tool is to use. The UI is self-explanatory and excellent in this regard. The price is well worth it, after considering all of the benefits.
Aweber gives you total control over your subscribers. You may assign several tags to each of your subscribers and automate this process and add tags.
In addition, you may begin sending personalized emails with no effort. There are several email templates to pick from, so you will quickly discover one you like. You may test it out for free to see how it works for you.
Start with Bluehost Today as low as $3.65/mo
Host my personal blog with Bluehost
Popular on Boogera Right Now!